Hello everyone!
We hope you are all doing fine 🙂
In any case, we hope to cheer you up with good news: GCH 3.9 will bring support for RPG Maker MZ! We are pleased to show you this small snapshot: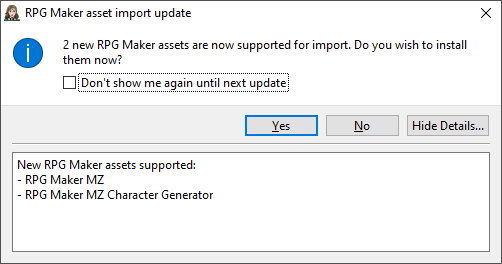 As you can see, you can import all the RPG Maker MZ character generator parts (of base RPG Maker MZ and its Character Generator DLC). This is a manual operation you need to do, GCH 3.9 cannot ship RPG Maker MZ parts just yet. Don't worry though, the import is pretty straight-forward 🙂 !
Beware, you will only be able to import RPG Maker MZ assets that are installed on your machine (so you need to own RPG Maker MZ). This, unfortunately, means that Debian / Ubuntu users won't benefit from RPG Maker MZ assets as it is not available on this platform.
When will it be released?
Like GCH 3.8, this update is a cooperative effort with people from Degica. Some RPG Maker MZ files need to be fixed before the release of GCH 3.9. You need to wait at most a few more weeks.
Is it a free upgrade?
GCH 3.9 is a regular GCH update. So yes, you will be able to upgrade from any GCH:PE version for free.
Other features
Along with RPG Maker MZ support, GCH 3.9 will mainly bring support for larger sprites with the ability to zoom out more (from 100% zoom to 5%). Other small bug fixes are also included.
That's all, we hoped you enjoyed it!